It is one of those days which is so beautiful, clear as crystal, crisply cool, here in the far West of the Panhandle, the part which the Good Lord willed to be spared the ravages of the nightmare named Michael, that I thought I might note how grateful I am to Him for this gift he has granted us.
I was moved to note these feelings of the deepest kind of gratitude, the kind which is simply not capable of being captured by mere words, by reading a truly poignant column in my daily scan of news items, an undertaking which is almost always, shall we say, not exactly uplifting but overflowing with news which is the polar opposite of inspirational. This piece, by Salena Zito, is entitled "A 90-minute flight, 45 presidents, and an 8-year-old American boy" and, especially if you're not having the kind of lovely afternoon with which we have been graced, please go read this wonderful and inspirational piece. Ms. Zito tells of meeting two uniquely, and true, Americans — one, the little boy of the title and another who does, indeed, qualify as one of the heroes of the story.
She sets the stage thus:
"Sometimes, you meet special people, people who have an impact not just on your day, but on your outlook in life. People who provide you a priceless gift by letting you see the world through their eyes, and thus showing you that everything is a little better than you thought it was before you met them.
Sometimes, those people are only eight years old.
The first thing you will learn about Jared Gyure when you meet him is that he likes U.S. presidents.
He has no problem sharing that affinity, which he did the moment he plopped himself down in seat 17E on an American Airlines flight from Charlotte to Pittsburgh, sitting next to his mom, with his dad and his 3-year-old brother, Jackson, in front of him. Two older brothers sit way up in the front of the plane.
They are all heading to Uniontown, Penn., for the funeral of the boys' great-grandmother."
Our young student of this particular aspect of American history then proceeds to demonstrate his remarkable knowledge of all, not just a few, of our Presidents, and is awestruck when Ms. Zito tells him she has actually interviewed several Presidents, including the present occupant of that office.
Which brings us to the second hero of this flight to Uniontown, PA: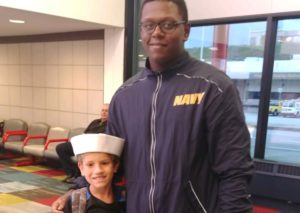 "For someone who rarely flies, I find myself for once enjoying the opportunity to meet someone so inspiring and inquisitive on a plane all packaged into one small compact boy.
Jared receives a lot of smiles as the passengers exit the plane. Our boisterous conversation has touched more than one person traveling from North Carolina to Pennsylvania, including an African-American young man dressed in a deep-blue dress sweatshirt and pants with the traditional gold Navy emblem across the front.
He pulls out his white navy sailor's cap and asks Jared's mom, Adrienne, if he could give it to the precocious boy, who probably taught everyone on the plane a few things about U.S. presidents — most importantly, a deep respect for the office outside of politics.
Jared is stunned as the sailor hands him the hat. He pauses to take a photo with him, then walks away with a broad smile, without giving his name.
It's a reminder that sometimes lightning strikes twice in one day, when you meet two special people who make an impact not just on your day, but on your outlook in life.
Jared likely made such an impact in so many ways Wednesday evening on a plane over the middle of the country to a lot more people than he'll ever know."
That lovely vignette just filled my heart with gladness and as I sat outside in this glorious weather, and thought about Jared and his brand new friend, one of those brave defenders of all we hold dear in this, the greatest Nation ever created by Man in history, I reflected on how immersed we all are in the "unlovely" news of the day. I probably should amend that statement as even I am not presumptuous enough to speak for "all", but I know that I must plead guilty to spending far too much of my time on the "unlovely" and not near enough time learning about the Jareds of the world, and of the kinds of men like the "other hero" in the story, a proud member of the United States Navy, who gave a little boy the gift of a lifetime!