Count Your Blessings!
Jim George
By Jim George
| September 23, 2020
0 COMMENTS3 UNFOLLOW
I have just taken a long walk which made me realize, anew, how much we here in our neighborhood near the water in the Pensacola area have to be thankful for and which reminded me quite forcefully what a thin thread separates us from misfortune or disaster. Here is a map showing the location of our new home (moved here a little over two years ago from Baton Rouge) and its proximity to the Santa Rosa Sound: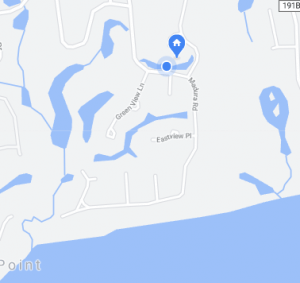 Hurricane Sally hit on September 16 (Happy Birthday to me—:-) ) and our home sustained no damage; those around us sustained minimal to moderate damage–mostly trees down and resultant damage but, to my knowledge, no water intrusion. As you have undoubtedly seen from the news coverage, there was severe flooding all around the area, with downtown Pensacola taking abut 2-3 feet of water, 20 barges breaking loose from their moorings with one, a crane barge, striking the new bridge over Pensacola Bay connecting to our area and Pensacola Beach and destroying one span of that bridge, and untold incidents of other damage which will take a very long time to repair and from which to recover.
We knew there was severe damage "down the hill" from us to the area fronting on Santa Rosa Sound as we had walked about one of the blocks down toward the Sound and could see the water standing a couple of days after the storm hit. But, it took walking the entire length of the street facing the Sound this afternoon to realize the almost unimaginable extent of the wind and water damage to the beautiful homes on that street. I did not have my camera with me, so the following word picture will have to do– it was like a war zone.. I'm trying not to exaggerate in the least here when I say it is like some of the photos one sees of bomb-ravaged city streets piled high with debris, furniture, toys, bicycles, all the accoutrements of what were happy family lives right up to September 15 but were destroyed in the many hours that dastardly Sally hovered over the area with up to 110 mph winds and storm surges up to 3 feet. It should be noted that almost all of these homes are built up to 2-3 levels, so the damage was to the bottom areas, although the wind did some serious damage to walls and windows on the upper levels.
We were two blocks away from this war zone and this experience has prompted me to, once again, remember that old admonition we have all heard many times but which, at times like this, really hits home: Count Your Blessings! Or, as a former priest of mine would state in closing his services:
"Life is short. We don't have much time to gladden the hearts of those who walk this way with us. So, be swift to love and make haste to be kind." Henri-Frédéric Amiel
Sincerely, Jim.